A Proposal for a Public Artwork at the Gauforum in Weimar, Germany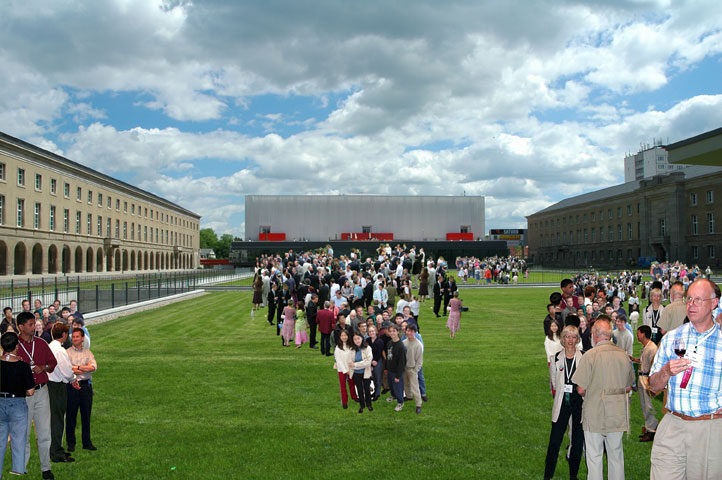 Weimar is rich with a complicated history that should not be ignored. This work attempts to create a space that is open to varied interpretation based on the history of the city. The main problem with the location is how does one utilize this space in a way that can reflect on its past (Weimar Republic, National Socialism, East Germany) as well as contemporary Weimar. Freiraum Weimarplatz, an initiative from Philippe Schmidt has been dealing with this question, analyzing and rethinking the city government's attempt to transform the Gauforum over the last 15 years. This initiative has brought together people from different backgrounds, as well as the local population to think of ways to reutilize the space in a manner that reclaims it, without hiding from its past — as the construction of the Mehrzweckgebäude into the Atrium attempts to do.
Weimarplatz, or at least the part used as a parking lot during the DDR, is about 14,000 m2, 90 meters wide and 135 meters long. The space itself was intended to fit roughly 20,000 people.
Weimarplatz will be filled with 1,650 figures (weatherproofed photos mounted onto wood or metal cut-outs) of human beings. The 1,650 figures will be made from images of people from Weimar on a 1:1 scale. Each side of the flat cutouts would show the front of each person so that from any side of the square, the person could be recognized.
The figures would be placed in a haphazard fashion in order to not be too reminiscent of the orderly military formations of National Socialism. The work can also be interpreted as a memorial to the people who lost their lives in the Buchenwald concentration camp, as well as a commentary of the state of former East Germany and the population loss that has occurred since reunification and Weimar's ability to bounce back afterwards. From my research, I have learned that Weimar has one of the fastest growing populations in the Bundesland and also most of East Germany.
The idea of the work is to repopulate the space with residents as it was during the Weimar Republic and also represents the people of Weimar retaking a space that represents the negative history in a silent and passive protest.
Sources:
City of Weimar, City Planning Commission, Geoplannung, Mr.Trinkaus
Photograph from Freiraum Weimarplatz, Mr. Phillipe Schmidt.
Holm, Kristen, Weimar in Banne des Fuehrers
Norbert Korrek, Justus H. Ulbricht, Christiane Wolf. Das Gauforum in Weimar. Ein Erbe des 3. Reiches
Forum Weimarplatz