Interventions in Public Space, variable, Work in Progress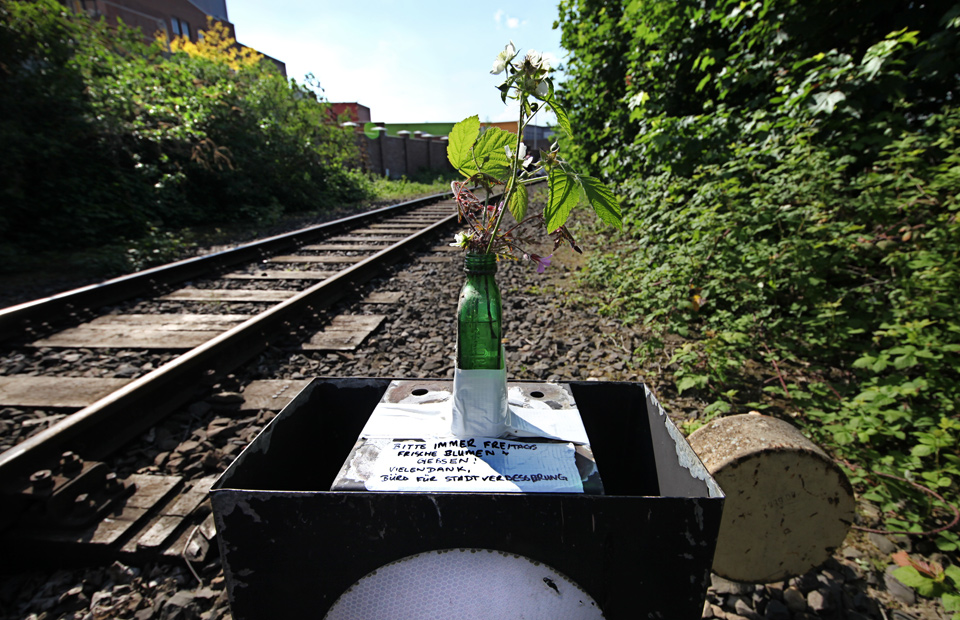 Büro für Stadtverbesserung looks to utilize public space interventions and installations as improvements to the cityscape, underutilized and mismanaged spaces and infrastructure. This project aims to circumvent existing infrastructures to make improvements today. A website is being planned where members of the public can submit spaces in need of improvement as well as suggestions that can be developed into actual interventions.
Flowervases uses trash found in a partially abandoned industrial area turned into flower vases to create spaces of contemplation, beauty and rest in a barren landscape. Each vase includes instructions for passerby's to add fresh flowers and water every Friday. This intervention took place as part of the workshop Academy of Rebellion as part of the exhibition Petites résistances – Rebellion als Kunstform at Weltkunstzimmer in Düsseldorf, Germany.
Current project plans in development include improvements to city tourist signage (removal and additions) and an archaeological research of Görlitzer Park in Berlin to develop markers showing public preferences of seating according to beer preferences.