Apr/28/13
<! -- article page: display the complete article -- >
The Berlinerische Galerie opened on Thursday with what was probably one of the most anticipated shows happening to coincide with this year's Gallery Weekend Berlin. Gallery Weekend is a selective group of Berlin's finest richest galleries coordinating all of their opening hours for a weekend and throwing a few large, exclusive parties to VIPs they shuttle around in Benzes over the course of three days. Hey, everyone loves a good party and a free ride.
Berlinerische Galerie is not a commercial gallery but the artist being displayed as the 2013 winner of Vattenfall Contemporary prize is no stranger in the commercial art world. As an artist at Contemporary Fine Arts, Berlin, Katja Strunz is part of an artist stable including such big names as George Baselitz, Jonathan Messe and Anselm Reyle to name a few. So expectations were definitely high. And with that perspective, I went to the opening, with my mind at ease, ready to absorb the work in front of me. And this is the first thing I saw when I walked in the room: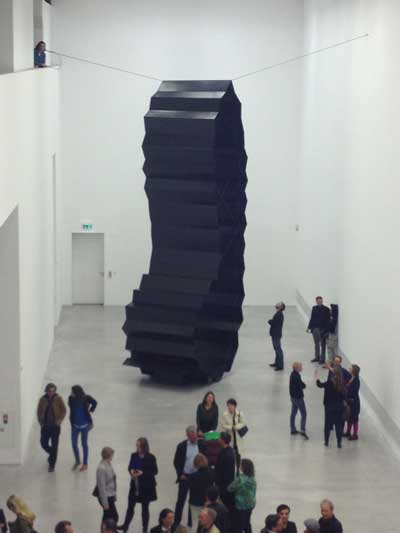 I didn't even read the exhibition text. I couldn't believe that this monstrosity in the room was being discussed as an object representing the folding of time and space. The work is called Tellurische Reimen which translates loosely to terrene belt or strap. At first I thought, hey, maybe the joke is on Vattenfall, what a great way to get back at the private energy concern by associating them with a work of art that calls the size of their "packages" into question. Very Yes Men. Hell, almost derivative of them: i.e, see Gold Lamee. Too be honest, there is nothing more threatening to a bunch of white business men than a big black phallus.
But slowly I realized that this was probably not the case. That in all seriousness this work was conceived, produced and installed, with so many people involved and no one took the opportunity to say something about the phallic shape in the room. Maybe Strunz works very secretively, maybe the curators didn't see it until the installation. Maybe some intentions changed.
In addition to this, the metal cable hanging from one end of the gallery to the other looked like a shoddy afterthought due to a construction or engineering error. As far as I remember, monuments and the descriptor of monumental generally means, in the case of objects or sculptures, that not only are they large, but they can stand for themselves. Maybe it's not directly implicated enough in the definition, but there are enough adjectives around to describe something that is hanging limp from a metal rope in the wall.
And as I looked around me, ease dropping on discussions, I realized that most of the people around me began to come across as Jonestown followers eager to drink the Kool-Aid of the art establishment. If it's called art by enough people with enough power, given a prize by some people with enough power and displayed in a big enough exhibition space backed by a reasonable amount of money, it must be exactly what they are saying it is and not what I actually see.
I like Paul McCarthy, because at least with him a dick is a dick, or in this case a butt plug is a butt plug.
At the end of the day, I was lucky enough to find some survivors of the Masacre who refused to sacrifice their free will of observation and aesthetic understanding and laugh about the art establishment a bit.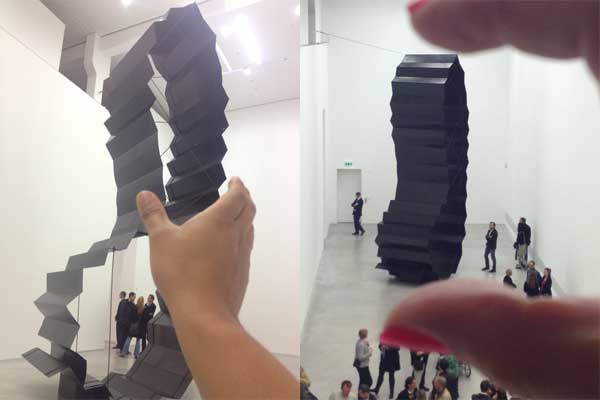 Over the weekend, I scoured the internet for some kind of critical analysis of the exhibition. All I found were german synopsis's of the press release under the guise of magazine or blog articles, a poorly written explanation of the show with a great slideshow of the artist with her big piece and some bullshit about folds in time and space.
Art Criticism sometimes does require the critic to actually be critical. And in a case like this, sometimes it should just be called out as what it is. Sometimes a spade, is just a spade and sometimes, you shouldn't ignore the large elephant penis in the room.
Thinking about going on a tour | How Meta can One be about Meta Performance Art
Socializing with the bad kids since 1981:
venues