Mar/17/13
<! -- article page: display the complete article -- >
I'm feeling very ambiguous about our collective future. It's becoming more prevalent to me how pop and kitsch is trumping culture and politics. Hell, I do it too on occasion, but it's beginning to scare me that although my twitter feed is full of newspapers I'm getting less and less "real" news.
So today, I decided to go all in. I decided to walk over to Ostbahnhof on my way to meeting up with A. for our weekly film/tv show club meeting. I knew David Hasselhof was planning to come to the East Side Gallery and I wanted to see how many people would really be there. Apparently he came to Berlin to save the wall, honestly I wouldn't be surprised if he drops an album very soon.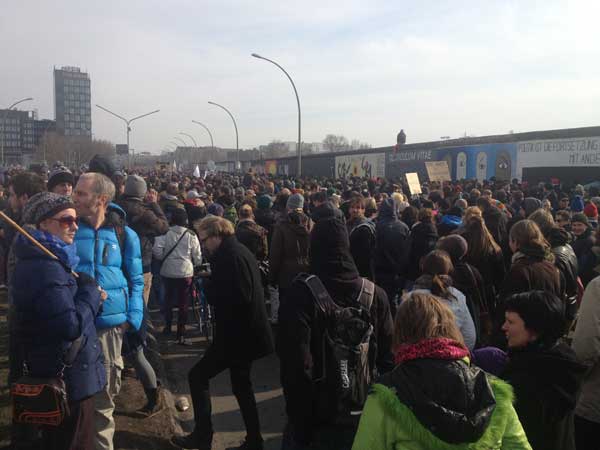 It was extremely crowded, but I could count maybe only one hand of actual Media Spree protesters. The rest were either just like me, observers of the spectacle, or Hasselhof fans wanting to get a glimpse.
There is so much more going on in the world. I'm not even going to recap the amazing or ridiculous things that have happened over the last week, but maybe we need to think about us as a society when the biggest draw to a "protest", whether ironic or not, took a Hoff to make it happen.
Spring Cleaning and waiting | Law & Order doesn't pause itself
Socializing with the bad kids since 1981:
venues