May/19/13
<! -- list page: display the short version -- >
I found this amazing graphic on Jezebel. The work from Emily Nemens is really interesting, although I am not such a huge fan of the execution itself. I do really enjoy the idea.
comments/questions?
May/12/13
May/05/13
<! -- list page: display the short version -- >
In U-Bahnhof Schönlein Straße is a display of some performances from an Artist that I had the joy to meet briefly. His exhibition of documentation which is, funny enough, built into the displays at the Rice Up Stand on the platform shows quite a few works that are pretty interesting. There is also a cell phone work that you can all and then also leave a comment about that will eventually be part of the documentation of the project.
My favorite video is part of what I believe is an ongoing project, The Modern Door. In this video the artist and a troupe of performers dressed in suits create a swarm of business people trying to occupy the same space in a vacant parking lot. I found the work quite intriguing and can see the potential for it to function in an interventionist nature. I love artworks that can do this to space. I'm such a huge fan of anything that can be mildly related to Situationist International principles, that I am almost always a sucker for these kinds of works.
After the opening, the rag tag troupe of suits put on what was suppose to be a little performance at an aquaintance's birthday party. What ended up happening was my personal version of the 7th circle of hell. They swarmed and they spoke often in fragments referring mostly to themselves as a business in the business of performing. At one point they started pulling a mostly unwilling audience into the swarm in a meager attempt at making the work more participatory. What as a video without sound which worked so well for me, turned into a live performance on performing in suits. The more meta it got the more annoyed and bored I became.
Still, I am willing to look a little more into what is happening with the Modern Door. It looks like they are experimenting with many different forms (apparently they are also trying to make a mess of stand up comedy) and still trying to find their way, so it would be unfair of me to completely write them off. I love participatory work and as a person who sometimes defines myself as a performance artist, I was really disenchanted with the association. The is nothing worse than art about the art of art.
comments/questions?
Apr/28/13
<! -- list page: display the short version -- >
The Berlinerische Galerie opened on Thursday with what was probably one of the most anticipated shows happening to coincide with this year's Gallery Weekend Berlin. Gallery Weekend is a selective group of Berlin's finest richest galleries coordinating all of their opening hours for a weekend and throwing a few large, exclusive parties to VIPs they shuttle around in Benzes over the course of three days. Hey, everyone loves a good party and a free ride.
Berlinerische Galerie is not a commercial gallery but the artist being displayed as the 2013 winner of Vattenfall Contemporary prize is no stranger in the commercial art world. As an artist at Contemporary Fine Arts, Berlin, Katja Strunz is part of an artist stable including such big names as George Baselitz, Jonathan Messe and Anselm Reyle to name a few. So expectations were definitely high. And with that perspective, I went to the opening, with my mind at ease, ready to absorb the work in front of me. And this is the first thing I saw when I walked in the room: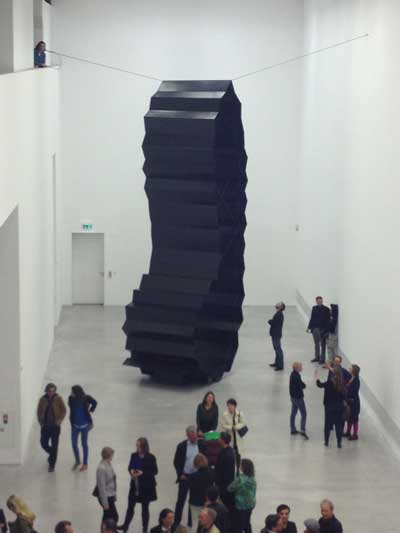 I didn't even read the exhibition text. I couldn't believe that this monstrosity in the room was being discussed as an object representing the folding of time and space. The work is called Tellurische Reimen which translates loosely to terrene belt or strap. At first I thought, hey, maybe the joke is on Vattenfall, what a great way to get back at the private energy concern by associating them with a work of art that calls the size of their "packages" into question. Very Yes Men. Hell, almost derivative of them: i.e, see Gold Lamee. Too be honest, there is nothing more threatening to a bunch of white business men than a big black phallus.
But slowly I realized that this was probably not the case. That in all seriousness this work was conceived, produced and installed, with so many people involved and no one took the opportunity to say something about the phallic shape in the room. Maybe Strunz works very secretively, maybe the curators didn't see it until the installation. Maybe some intentions changed.
In addition to this, the metal cable hanging from one end of the gallery to the other looked like a shoddy afterthought due to a construction or engineering error. As far as I remember, monuments and the descriptor of monumental generally means, in the case of objects or sculptures, that not only are they large, but they can stand for themselves. Maybe it's not directly implicated enough in the definition, but there are enough adjectives around to describe something that is hanging limp from a metal rope in the wall.
And as I looked around me, ease dropping on discussions, I realized that most of the people around me began to come across as Jonestown followers eager to drink the Kool-Aid of the art establishment. If it's called art by enough people with enough power, given a prize by some people with enough power and displayed in a big enough exhibition space backed by a reasonable amount of money, it must be exactly what they are saying it is and not what I actually see.
I like Paul McCarthy, because at least with him a dick is a dick, or in this case a butt plug is a butt plug.
At the end of the day, I was lucky enough to find some survivors of the Masacre who refused to sacrifice their free will of observation and aesthetic understanding and laugh about the art establishment a bit.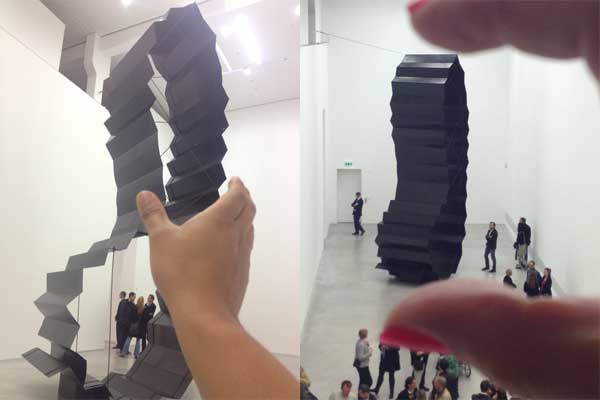 Over the weekend, I scoured the internet for some kind of critical analysis of the exhibition. All I found were german synopsis's of the press release under the guise of magazine or blog articles, a poorly written explanation of the show with a great slideshow of the artist with her big piece and some bullshit about folds in time and space.
Art Criticism sometimes does require the critic to actually be critical. And in a case like this, sometimes it should just be called out as what it is. Sometimes a spade, is just a spade and sometimes, you shouldn't ignore the large elephant penis in the room.
comments/questions?
Apr/21/13
<! -- list page: display the short version -- >
A really great friend of mine is in town playing tomorrow at Naherholung Sternchen and I'm thinking about maybe hanging out with him on his Northern European part of his tour.
Come to the show, it'll totally be worth it!
comments/questions?
Apr/14/13
<! -- list page: display the short version -- >
Today, the parks were full and everyone was smiling. It's finally Spring in Berlin, so all is good.
comments/questions?
Apr/07/13
<! -- list page: display the short version -- >
I didn't really feel like blogging this week, so here is a photo of how audience members are signaled to participate with artworks in Yoko Ono's Retrospective exhibition at the Schirn Kunsthalle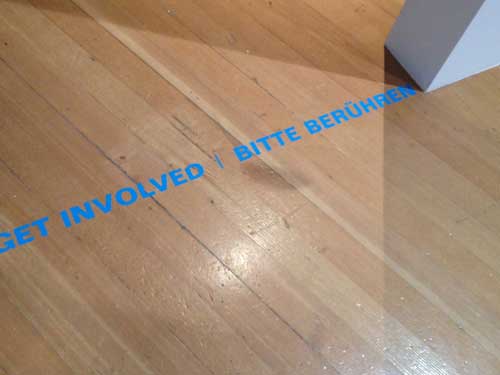 I'm not exactly sure how I feel about this. As an artist who has a general distaste for the traditional museal context, this shouts out to me everything that is wrong with museums. But on the other hand, being that we are acclimated to museums being a place where we just can't touch, how does one encourage the audience to touch and truly engage with an art object?
Just a thought.
comments/questions?
Mar/31/13
<! -- list page: display the short version -- >
I want to talk about it this upcoming week but check out this New York Times article about the return of etiquette in the digital age. I have a bit to say on the subject, but have been very occupied with other writing. So hopefully soon. Carry on.
comments/questions?
Mar/24/13
<! -- list page: display the short version -- >
I've had a Lot of problems concentrating the last few days. It's hard to wait to hear decisions that may result in really changing my life. All I do know, and hope, is that I am still in the running. And I've tried not to focus too much on it, but getting the green light would make me so unbelievable happy. Hell, I'm already feeling so honored that I'm even being considered.
But all of this waiting has been detrimental to my work flow. Not too many days ago, I watched so many episodes of Law & Order trying to locate the 1st episode with a crossover of the actors from the show Homicide. Instead I should've been reading one of the 50 Kilos of books I've collected as part of my research.
Being idle is dangerous enough, but feeling like your life is on pause is even worse. It's really hard moving forward on everything else with something potentially life changing hanging in the balance.
I've changed my set up and started spring cleaning this weekend. Maybe an adjustment in my environment will lead to a better work flow. Oh, and a limitation on time spent online wouldn't hurt either. I think the Detective Munch would agree.
comments/questions?
Mar/17/13
<! -- list page: display the short version -- >
I'm feeling very ambiguous about our collective future. It's becoming more prevalent to me how pop and kitsch is trumping culture and politics. Hell, I do it too on occasion, but it's beginning to scare me that although my twitter feed is full of newspapers I'm getting less and less "real" news.
So today, I decided to go all in. I decided to walk over to Ostbahnhof on my way to meeting up with A. for our weekly film/tv show club meeting. I knew David Hasselhof was planning to come to the East Side Gallery and I wanted to see how many people would really be there. Apparently he came to Berlin to save the wall, honestly I wouldn't be surprised if he drops an album very soon.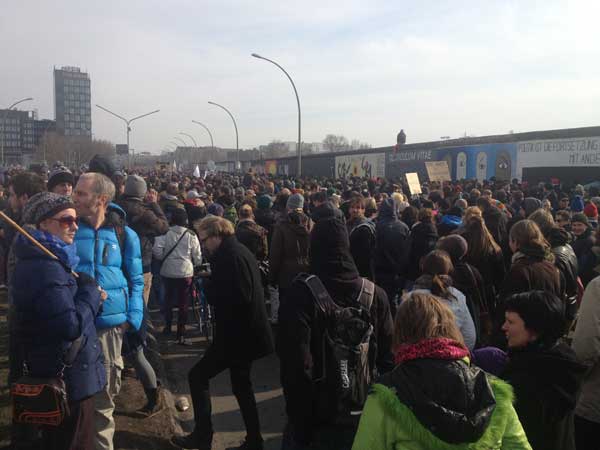 It was extremely crowded, but I could count maybe only one hand of actual Media Spree protesters. The rest were either just like me, observers of the spectacle, or Hasselhof fans wanting to get a glimpse.
There is so much more going on in the world. I'm not even going to recap the amazing or ridiculous things that have happened over the last week, but maybe we need to think about us as a society when the biggest draw to a "protest", whether ironic or not, took a Hoff to make it happen.
comments/questions?
Socializing with the bad kids since 1981:
venues
Find Me Here